Portronics has launched mBell – the smart re-chargeable doorbell which is connected to your smartphone and which streams live HD video of the person on your doorstep onto your smartphone.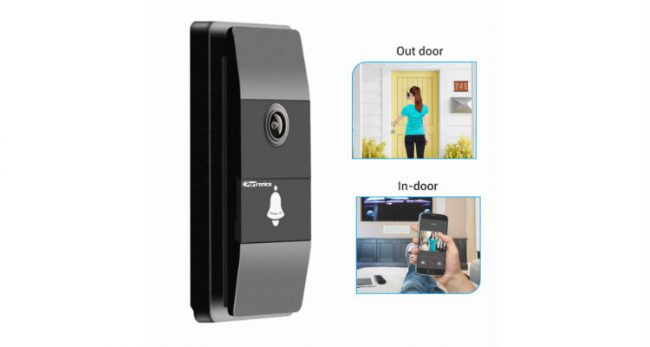 Portronics mBell connects to the 2.4GHz Wi-Fi network of your home. Once anyone presses the mBell smart door-bell, the members of the house will hear a nice chime and can see the person at the door on the smartphone with a720p HD video and can also speak to the person from your phone. You are required to install a free WeHome app on your Android or iOS device.
Portronics mBell gives clear view of outside your door with upto 180 degrees horizontal and over 100 degrees vertical view span. Even if the person at the doorstep is on sides of the mBell or at a lower trajectory, you'll be able to clearly see him/her on your mobile just by moving the fingers on your mobile app screen in the WeHome mobile app as claimed by the company.
One more key security feature of the Portronics mBell is that it allows you to remotely wake up the mBell to view the outside of your door at any time even if the doorbell is not pressed.
Even in the night, mBell allows you to have a clear view with the inbuilt IR Nightvision upto 9 feet. And in case if the outside, street-light or gate-lights are switched off, you'll be able to clearly see the person on the door. There is also a motion-detection sensor in the mBell as well which allows you to see if there are any movements outside the door as stated further by the company.
On the inner side of the door, the mBell has a USB charging port, On/Off Button, Reset Button and Alarm button to raise an alarm in-case of an emergency.
Portronics mBell also comes with IP67 water and dust proof rating which ensures that even in torrential rain lashing on your door or in a dust-storm, or if the temperature drops to -5C or raises to +50C, your mBell will keep working.
Even if you are out of your house for over 3-4 months, you can keep the watchful eye on your home since once fully re-charged; the inbuilt 4000mAh battery can work for upto 3-4 months without needing another recharge.
The mBell is priced INR 10,999/- and is available at all online and leading retail stores across India.