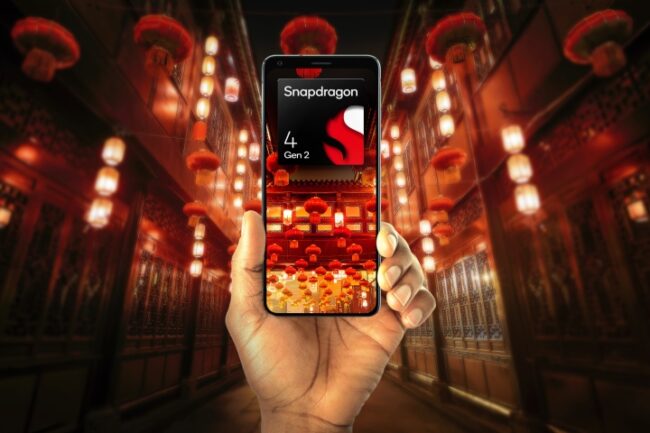 Qualcomm Technologies has introduced the new Snapdragon 4 Gen 2 Mobile Platform, which is claimed to have fast CPU speeds, sharp photography and videography, plus speedy 5G and Wi-Fi for reliable connections. Leading smartphones brand including Redmi and vivo, will adopt Snapdragon 4 Gen 2, with commercial devices expected to be announced in the second half of 2023.
Key features of Snapdragon 4 Gen 2:
Performance: The first 4nm platform in the 4-series,Snapdragon 4 Gen 2 was designed to extend battery life and improve overall platform efficiency. The Qualcomm Kryo™CPU offers peak speeds up to 2.2 GHz and up to 10% better CPU performance.. Qualcomm Quick Charge 4+ Technology can refill up to 50% of a battery in just 15 minutes. The platform offers support for 120fps FHD+ displays for improved clarity and smooth, seamless scrolling.
Camera: Electronic image stabilization and faster autofocus provide blur reduction for clearer images, even with moving subjects. For the first time in the 4-series, Multi Camera Temporal Filtering (MCTF) is built into the hardware – providing noise reduction for high-quality videos.
AI: Exciting new AI enhancements include an AI-based low-light for crisp, detailed images in dim environments. AI-enhanced background noise removal ensures users are heard clearly on calls and video during work or in a crowded environment.
Connectivity: Powered by theSnapdragon X61 5G Modem-RF System, Snapdragon 4 Gen 2 delivers blazing-fast speeds and support for more networks, frequencies, and bandwidths globally. Plus, Qualcomm Wi-Fi 5 is a robust solution delivering fast, strong Wi-Fi connectivity for gaming, streaming, and more.
"Snapdragon – at its core – is driving innovation while meeting the demands of OEMs and the broader industry," said Matthew Lopatka, director of product management, Qualcomm Technologies, Inc. "With this generational advancement in the Snapdragon 4-series, consumers will have greater access to the most popular and relevant mobile features and capabilities. We optimized every aspect of the platform in order to maximize the experiences for users."