Sony India has expanded the One Box Audio line-up and launched today the new high power portable home audio system – MHC V50D with Smart High Power Technology and Mica Cone speaker targetted for party lovers. The MHC-V50D is stylishly designed and its innovative speakers are the successor of the previously introduced MHC-V44D with impactful audio output.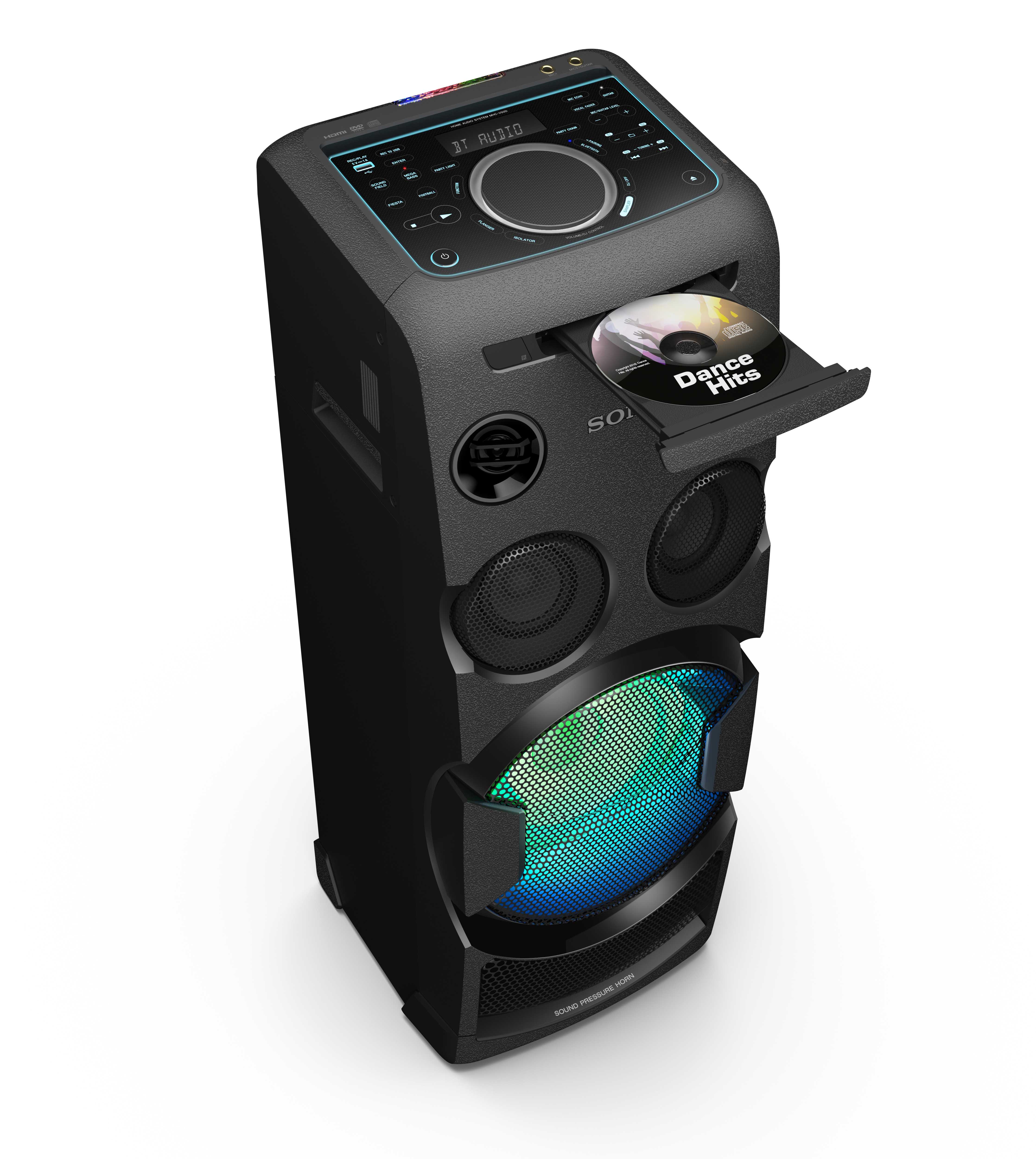 Sony has introduced unique features in this product such as party lights and karaoke mode, Motion Control and DJ effects. The speaker is embedded with an option for built in DVD/CD player, USB port, audio input and HDMI output and also comes with a built in FM radio tuner.
The new speakers can now easily organize mini concerts with the available guitar input. Just plug in and press the guitar key to enjoy powerful sound of the instrument. To make the experience even more engaging the karaoke mode enables consumers to have an ultimate sing- off. Just hook the MHC-V50D up to a TV and pop in a karaoke DVD, or sing along to songs from YouTube via Bluetooth technology. Two mic inputs, plus scoring and sound effects allows for a smooth karaoke setup. A built-in vocal fader function even turns down the voice on CDs, so one can sing all favourite songs.
The system's LED touch panel makes it easier to control music playback and space illuminating lights beams multi-coloured light from the ceiling to the floor in time with the beat. It is also equipped with the latest motion control to manage the selection of tracks. This smart technology is an effortless feature which can drive a smartphone's motion with a simple left and right shake to change tracks; play and pause favorite tracks and also manage the volume control. This system has an impressive audio output capability with 660W for enjoying the highest quality wireless audio via Bluetooth technology.
The audio system comprises of DJ function allowing consumers to add effects to music, voice and lighting. Using the Music Center app installed in the smartphones, one can select the effects such as the lighting and control DJ effects directly. It also encompasses one touch connection and listening via one's smartphone. Users can also control the music via Wi-fi or Bluetooth and can also browse music through USB list from faraway places by easily connecting to Sony's indigenous App.
The MHC-V50D can pump up the atmosphere with club-like speaker illuminations. One can control the lights on the system, and watch them sync to the beat of the music for a club-style dance floor at home.
MHC-V50D is light weight, space saving and its compact design helps achieve maximum portability. The speaker can be connected with other Sony one box audio systems to amplify the sound and create a high power audio chain effect.
Priced at Rs. 33,990 this will be available from 13th July at Sony Center and major electronic stores across India.