This is a Sponsored post written by me on behalf of Arcsoft. All opinions are 100% mine.
No need to worry if you have not done proper, makeover for a particular occasion and were not in best of your spirits on a particular event, you can always fill in these shortcomings with the help of one tap app the Perfect 365. This app is rightly named Perfect 365 to make your portraits perfect in all respects for 365 days as per your choice and latest fashion trends and you can share your perfect photos with your friends and loved ones. This app plays the role of a beauty parlour and instead of going to a brick-and-mortar parlour, you can do the necessary makeover online. This app is freely downloadable.
Perfect365 is a one-tap makeover for Windows 8, and is very easy to operate. With free Perfect365 Windows 8 app you don't need the professional skills to use this app and any amateur can use it. Over 30 preset style templates are included in this app for you to choose from, and many more will be added with updates. With a single click of your mouse, you can turn mediocre photos and portraits into perfectly dazzling quality.
Perfect365 iPhone app and windows counterpart offers you state-of-the-art cosmetic colors, makeup simulation, and makeup effects. This app enable you to make up or beautify four parts of the body: Skin, Face, Eyes and Mouth.You can, adjust the intensity of effects,and customize the skin foundation, eye color, and teeth whitening, the way you like and as per latest fashion styles.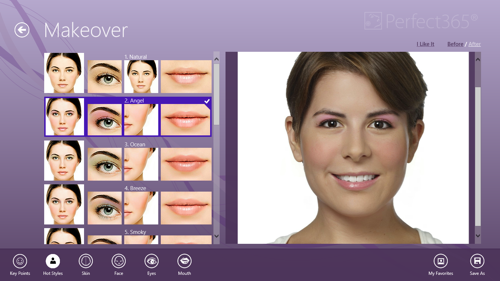 If you are looking for a photo retouching app for Windows 8, Perfect365 is easy to handle photo retouching app for Windows 8 and the beauty of this app is that this is not a professional program like Adobe Photoshop. Perfect 365 give you tips on prevailing new trends in-fashion and how you can look more glamorous by adopting new styles and with these inputs, you can edit your portraits as per your choice and can become fashion diva! Ideal for smart girls who want to be seen good and dashing online, for which they require just a few minute to retouch their portraits, and use it as a new profile picture on Facebook and Twitter.