HONOR 90 5G which is launching in India on 14th September will come with host of features. Brand is sharing details of its features in pieces and hopefully by 14th of September, all the specifications will be available except its pricing. Today, HTech has revealed that the upcoming HONOR 90 5G comes with the industry-first 0 Risk Eye-Comfort Display boasting the industry's highest and safest 3840Hz PWM Dimming technology, the highest in the industry to maintain a more comfortable, flicker-free viewing experience minimizing eye strain and providing a comfortable viewing experience, in all scenarios.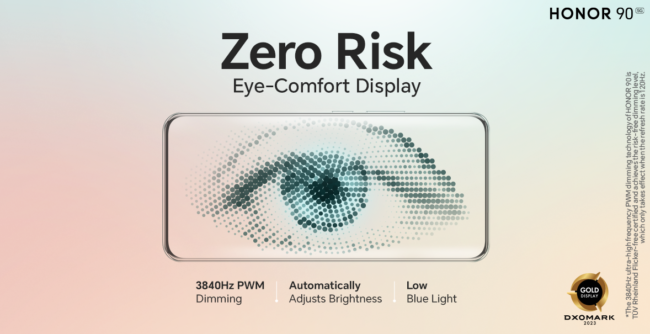 This smartphone has also received TUV Rheinland Flicker Free Certification and achieved the risk-free dimming level, perfect for today's entertainment-savvy generation who spend long hours consuming content on their smartphones.
The smartphone features a 6.7 Quad-Curved Floating Display and its AMOLED panel has resolution of 2664×1200, showcasing a stunning 1.07 billion colors and covering 100% of the DCI-P3 color space. Additionally, the display will achieve a peak HDR brightness of 1,600 nits, enhancing the vibrancy of HDR content as further stated by HTech.
HTech has further explained that the PWM Dimming method is known to have three stages of risk when it comes to eye health. These stages are determined by the frequency at which the display backlight flickers, which can affect users differently depending on their sensitivity. In the high-risk stage, the frequency falls below 1250Hz, leading to noticeable flickering that can increase the risk of eye strain and fatigue. In the low-risk stage, the frequency is typically between 1250Hz and 3125Hz, ensuring flickering is not noticeable to most users, reducing the risk of eye discomfort.
HONOR has gone above and beyond with the HONOR 90 5G, introducing the industry-first 3840Hz PWM Dimming technology. This feature eliminates any risk to the eyes, providing users with the assurance that they can enjoy their smartphones without any concerns about eye strain or discomfort. Further, the HONOR 90 5G uses dynamic light that resembles natural light rhythm to stimulate ciliary muscle movement through Dynamic Dimming. This innovative feature helps to alleviate eye fatigue by as much as 18% by increasing blood circulation in the ciliary muscle.
In addition, the brightness level of the display will automatically and periodically change according to the duration of screentime with different external lighting conditions, going brighter and darker imperceptibly according to the desired condition of human eye.
The HONOR 90 5G is equipped with the innovative Circadian Night Display technology, a feature specifically designed to enhance user sleep quality during nighttime usage. This feature filters out harmful blue light and smoothly transitions the screen's color temperature in a natural manner, supporting a healthier sleep cycle.
Besides above features, this phone is speculated to be powered by Qualcomm Snapdragon 7 Gen 1 SoC paired with up to 12GB of RAM and 256GB of inbuilt storage. The phone is expected to be packed with a 5000mAh battery with 66W wired fast charging. On the camera front, this phone will be armed with 200MP primary rear sensor, supported by 12MP sensor with ultra-wide-angle lens + 2MP sensor with micro lens. For selfies, this phone will boast of 50MP front shooter for stunning selfies also. On the OS front, HONOR 90 5G will run on MagicOS 7.1, powered by Android 13.
Stay tuned for more details in the coimg days!