Nikon India has today launched the new Nikon Z 5 compact and lightweight camera with NIKKOR Z 24-50mm f/4-6.3 lens for high quality, social media ready images and videos.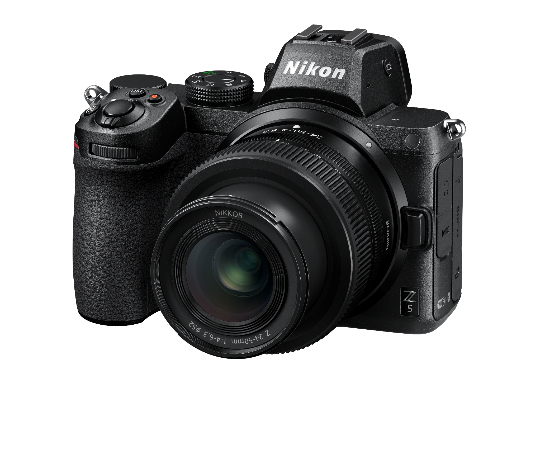 The Nikon Z 5 is compact and lightweight and weighs approximately 675g. It is capable of capturing stills and videos beautifully in lowlight scenes and render details sharply even with handheld shooting, camera shake is accurately detected and compensated to provide optimal effect with its 5-axis in-camera Vibration Reduction (VR) of up to 5.0 stops as stated by the company. In this camera, the users can choose between two VR mode options to meet their shooting needs: NORMAL mode when you are looking to capture still subjects and SPORT mode for moving subjects. In addition, the VR unit is designed with a lock structure feature to prevent the image sensor from damage caused by shaking.
The Nikon Z 5 also features improved user-friendliness, which eases the handling and operation via a touch screen and its customisable "i-Menu" that provides shortcuts to frequently used settings in one interface. The camera comes with double SD memory card slots. The camera has 20 different types of Creative Picture Control, which works like your favourite app filters, that apply to both stills and movie. Moreover, you can easily upload your photos on social media with #NikonSnapBridge. The camera has long lasting battey and can be charged on the go as it allows for USB charging and using the USB connectivity to a power bank as a continuous power supply.
The NIKKOR Z 24-50mm f/4-6.3 is the perfect companion and its compact body is the shortest and lightest among full-frame format zoom lens for mirrorless cameras, weighing at approximately 195g and featuring a button-less retractable mechanism being the slimmest at only 51mm. The body of this lens is designed with dust- and drip-resistant performance preventing dust and water droplets from entering the lens. The focus-breathing reduction feature of NIKKOR Z 24-50mm f/4-6.3, will help to reduce shifting the angle of view when adjusting your focus for a good shot, making it easier to take photos or videos of various environments. In addition, its stable aperture control helps creators cruise through different lighting exposures for high movie quality recordings as further stated by the company.
This camera will be available in below mentioned configurations from Nikon authorized retailers starting August 27, 2020:
| | |
| --- | --- |
| Product | MRP |
| Z 5 Body Only | INR 113,995 |
| NIKKOR Z 24-50mm f/4-6.3 Only | INR 39,995 |
| Z 5 Kit with NIKKOR Z 24-50mm f/4-6.3 Lens | INR 136,995 |
| Z 5 Kit with NIKKOR Z 24-200mm f/4-6.3 Lens | INR 171,995 |
| Z 5 Kit with NIKKOR Z 24-70mm f/4 S Lens | INR 158,995 |