Chinese smartphone brand, Oppo known for innovative smartphones is sponsoring PUBG Mobile India Tour. The tournament will take place across India starting July 2019. For this tournament, Oppo is offering a staggering prize-pool of INR 1.5 crores.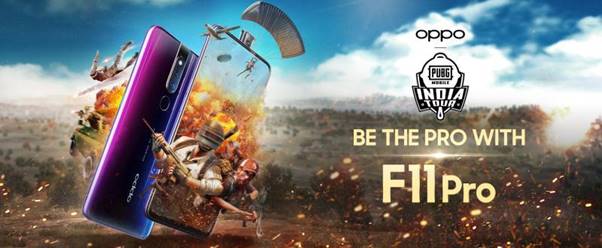 According to Oppo, PUBG Mobile game which has become a craze, is an ideal platform for to connect with the young generation. Oppo has always provided products with professional gaming optimization, which ultimately provides a better gaming experience to all the PUBG Mobile players.
The OPPO F11 Pro launched recently in India, is an ideal device for gaming. It comes with 6.5-inch display screen and screen-to-body ratio of up to 90.9% delivers larger images and more visual space for an enthralling gaming experience. This phone comes with VOOC 3.0 for fast charging of battery and Helio P70 chipset with Hyperboost that optimises memory so that the game can make the most of the available amount of RAM. This also improves loading speeds and touch sensitivity.
With a total cash pool of INR 1.5 Crore, the tournament promises a chance to walk away with INR 50,00,000 for the team ranking first, INR 20,00,00 for the team ranking second and INR 10,00,000 for third. Moreover, cash prizes will be awarded to all the teams who made it to the finale.
Previously in January, Oppo joined hands with Tencent Games and PUBG Mobile to announce the launch of 'OPPO PUBG MOBILE India Series 2019' – the first ever open-to-all tournament in India for which the brand sponsored a staggering prize-pool of INR 1 crore. Along with the prize money, a lot of players won the latest Oppo smartphones.
 Schedule of Oppo PUBG Mobile India Tour Mega Finals:
OPPO PUBG MOBILE India Tour Mega Finals
Event
Dates
Sunday Live
20th October
Stream Starts x
20th October
Grand Finals Live Stream
20th October
Countdown and Venue
18th October – 20th October